See the 2019 Q7 at Audi Tampa
Meet the 2019 Q7 SUV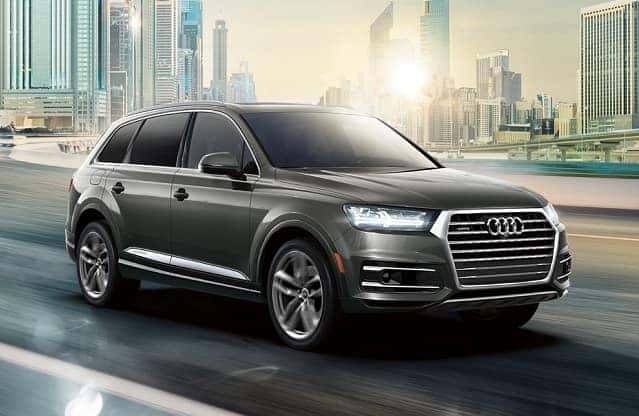 The 2019 Q7 SUV hit the showroom so suddenly that no one saw it coming. And we mean no one. There weren't any reviews out beforehand, and it isn't even appearing on Audi's official site yet. Just, BAM—the most state-of-the-art SUV on the road is here.
So what info do we have to share about the latest from Audi? Let's take a look.
The 2019 Q7 SUV in Tampa
There are three key things you should know about the 2019 Q7 SUV.
It delivers high-performance SUV power.
The new Audi Q7 features one of two engines: a 2.0 liter four-cylinder turbocharged version that puts out 252 horsepower, and a 3.0 liter V6 that churns out 333 horsepower. Not only do they provide solid acceleration, but the Q7 is also among the most fuel efficient in its class.
With three rows of seating and one of the largest cargo spaces in the segment, the new Q7 offers a level of utility and versatility that is almost unheard of in the luxury SUV class.
It tows more than the rest.
Further adding to its versatility, the 2019 Q7 boasts a massive towing capacity of 7,700 pounds. That's a capability that is unique among luxury vehicles.
Experts are still scrambling to put together their latest reviews, but let's take a look at what a few of the leading outlets have said about the last edition of the Q7:
This luxurious three-row SUV offers plenty of performance and technology."
US News Rankings and Reviews
"Luxurious, comfortable, and quiet cabin." "Impressive standard and available safety features." "Energetic, fuel-efficient engines." "Refined ride and handling."
"Expertly crafted and extremely versatile—the Q7 is one of our favorite SUVs—hence its back-to-back 10Best awards." "Crisp steering, nimble handling, tasteful and tech-laden interior."
Bottom line, the Q7 offers a heritage of unrivaled excellence.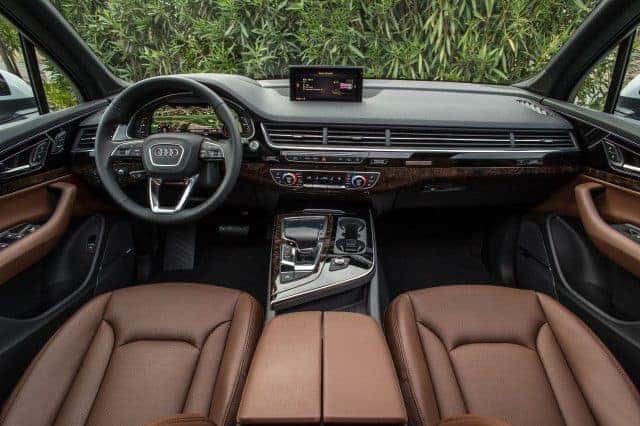 Test Drive the 2019 Q7 SUV in Tampa
Ready to be among the first to experience the new 2019 Q7 SUV in Tampa? Visit Audi Tampa today, and check it out before even the reviewers have had a chance.
We offer the largest selection that you'll find anywhere in the region, on top of the highest degree of product knowledge. You'll want all that expertise when exploring the latest innovations offered by Audi in the new Q7. At the same time, we offer a friendly shopping experience like no other.
Check out our selection of the 2019 Q7 online, or call Audi Tampa at (888) 486-8115 today.