See Why Experts Call the 2021 Audi A8 "Impeccably Crafted"
The 2021 Audi A8 Delivers a Truly Luxurious Experience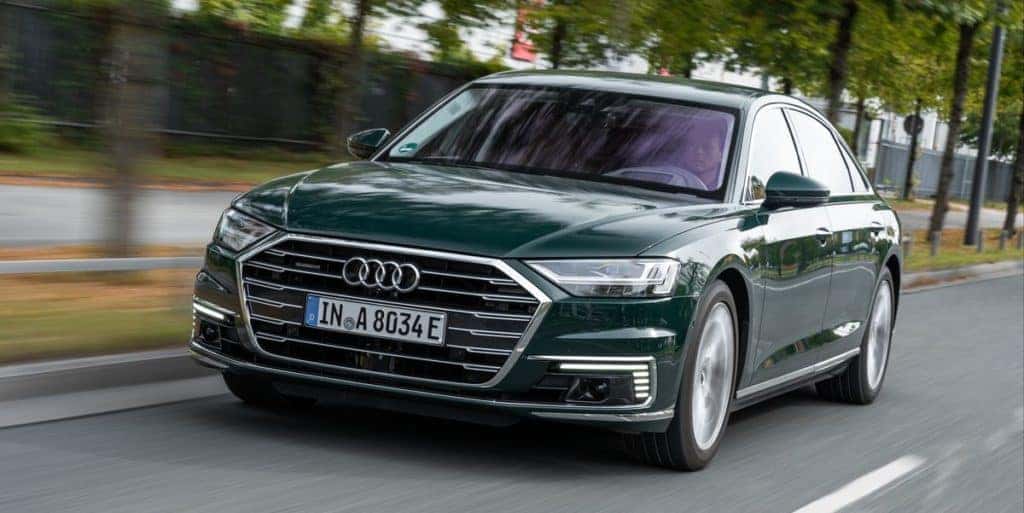 The flagship among Audi cars, the A8 has long been hailed for pushing the boundaries of innovation and luxury. Now the 2021 Audi A8 is for sale at our Tamp dealership, and experts are saying that the latest edition delivers a whole new level of perfection.
Just take a look at the reviews:
"Quiet cabin with plenty of luxuries…All the best tech features are standard…Comfortable but still capable in the corners… In the same way that a simple but well-tailored tuxedo elevates one's style, the quietly luxurious 2021 Audi A8 is handsome and looks expensive without being flashy."
"Astoundingly comfortable…Quiet as the depths of space…Brilliant attention to detail."
"Impeccably crafted cabin…Impressive interior technology…Responsive steering and cornering for a big sedan…Exceptionally comfortable seats all around."
US News Rankings and Reviews
"It features one of the most exquisite cabins in the class, as well as a comfortable ride…Supple and spacious seats."
"Smooth ride…Modern and luxurious interior…Thoroughly refined…Comfortable and roomy…Powerful in all versions…A worthy flagship,  the 2021 Audi A8is thoroughly modern and eminently comfortable."
"Superb tech…Relaxing to drive…Could be the world's most complete luxo barge."
"Elegant styling…Chock full of high tech features…Beautiful interior."
Suffice to say that if you're looking to get around in tech-savvy style, the 2021 Audi A8 delivers.
2021 Audi A8 Specs and Features
The new Audi A8 was designed to be a powerhouse of technology, performance, and luxury.
With up to 453 horsepower and 487 lb-ft of torque, the 2021 A8 is capable of zipping from 0 to 60 in just 4.5 seconds. Dynamic all-wheel steering provides greater maneuverability and an improved turning radius. And the available plug-in trim can bolster the A8's performance with improved efficiency.
Inside the cabin you'll find a vast array of technology to enhance your experience. The latest MMI touch response interface is highly user-friendly and capable of managing virtually all aspects of your ride. Capable of saving up to 400 settings, the A8 can be sharply tailored to your needs. A 30-color ambient lighting system allows you to set the mood. And the Audi Virtual Cockpit and Audi connect place even more power over your drive under your control.
If you really want to up the luxury, the Executive Plus package provides front seat massage, a head-up display, Rear Seat Remote Control, and an expansive range of driver assist tools.
Test Drive the 2021 Audi A8 at Our Tampa Dealer
The 2021 Audi A8 is for sale now at Audi Tampa, where we're excited to announce that we're currently celebrating our 50th birthday! For half a century we're been providing a superior Audi experience, and we're excited to continue to do the same for decades to come.
For example, be sure to ask about our concierge shopping services. We know that finding the ideal car can be challenging, so we make it easy. All you need to do is specify exactly what you're looking for—model, year, trim, and delivery requirements—and we take care of the rest. It's just another way we go the extra mile to ensure that you're consistently enjoying the utmost in complete satisfaction.
On top of that, at Audi Tampa you can count on finding superior selection, unrivaled convenience, at the highest level of expertise and friendly service. Simply put, why settle for anything less than the best? At Audi Tampa that's exactly what you'll get.
Check out our current selection of the 2021 Audi A8 online now, or call Audi Tampa at (888) 486-8115 today.