The All-New 2019 Audi Q8
Experience the All-New 2019 Audi Q8 SUV at Our Tampa Dealership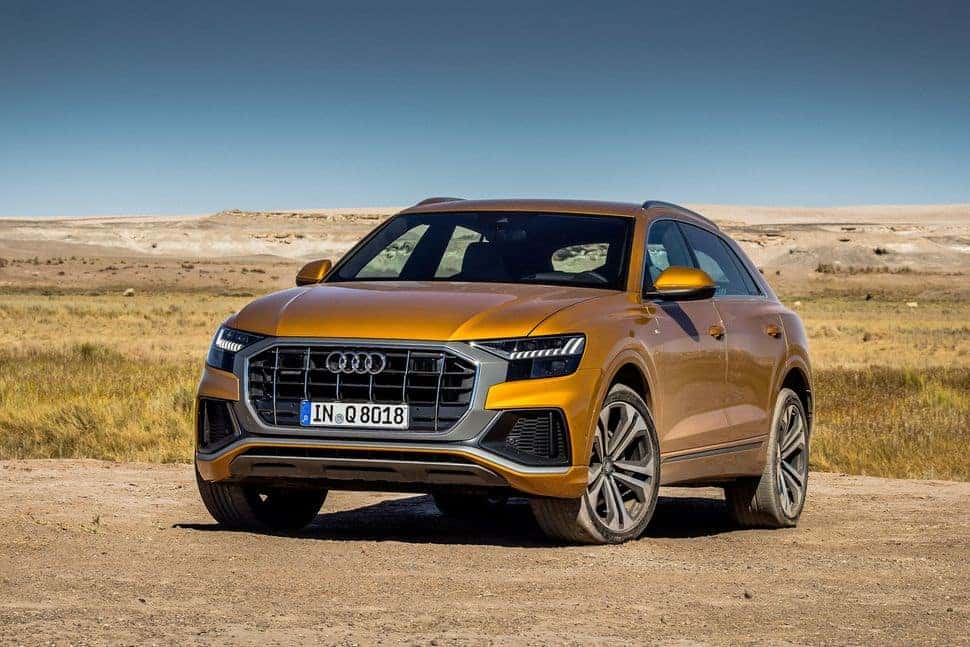 There's nothing quite as exciting as experiencing an all-new vehicle. Let me amend that—there's nothing quite as exciting as driving an all-new Audi, especially when you're one of the first people to get behind the wheel. To that end, meet the new 2019 Audi Q8, an entirely new Audi SUV that will be available at our Tampa Audi dealership soon.
So why should you be excited about the new Q8? Let's take a look.
Meet the All-New 2019 Audi Q8 SUV
Outside, the new 2019 Audi Q8 boasts an aggressive, sporty exterior that is as refined as it is athletic. One aspect you can't fail to notice is its new dynamic lighting system. This includes LED taillights with animation and dynamic indicators, as well as HD Matrix-design headlights.
Inside the cabin of the 2019 Q8 has been carefully crafted to deliver space, tech, and top quality materials. Speaking of dynamic lighting, the cabin can be equipped with color-changing, ambient interior lighting to help you set the mood. As for versatility, the backseat features 40/20/40 split-folding capability, allowing for more space and visibility.
And it wouldn't be a Porsche without heart-pounding performance. The 2019 Q8 boasts 335 horsepower, 369 lb-ft of torque, and a 0-60 time of 5.6 seconds. Combine that with quattro all-wheel drive, all-wheel steering, and Audi adaptive air suspension, and you have the most sure-footed ride on the road.
Let's not forget the latest tech. Audi connect and myAudi via the state-of-the-art MMI touch display. And with the standard Audi virtual cockpit, and options like the Audi phone box and head-up display, you'll be driving into the future.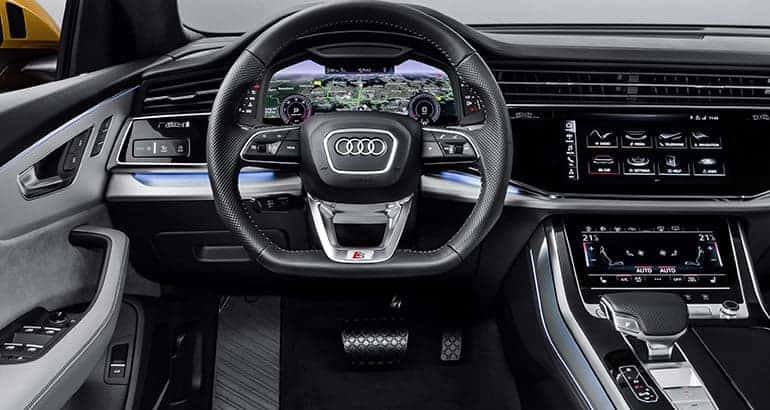 Test Drive the 2019 Audi Q8 SUV at Our Tampa Dealership Soon
The Q8 will be hitting the road any day now. Want to be among the first to experience it? Visit our Tampa Audi dealership and take the all-new 2019 Audi Q8 SUV for a spin. Our expert team will be on-hand to share all of the Q8's exciting new features, and to ensure that you're in-the-know about the latest innovations from Audi.
Bottom line—the 2019 Audi Q8 is coming to our Tampa dealership to provide you with the most luxurious, high-tech, high-performance SUV experience yet.
Call Audi Tampa at (888) 486-8115 today to find out when the 2019 Audi Q8 will be here.