Audi Q7 Dealer – Serving Tampa Florida
Your New or Used Audi Q7 if for Sale at the Premier Audi Dealer in Tampa, Florida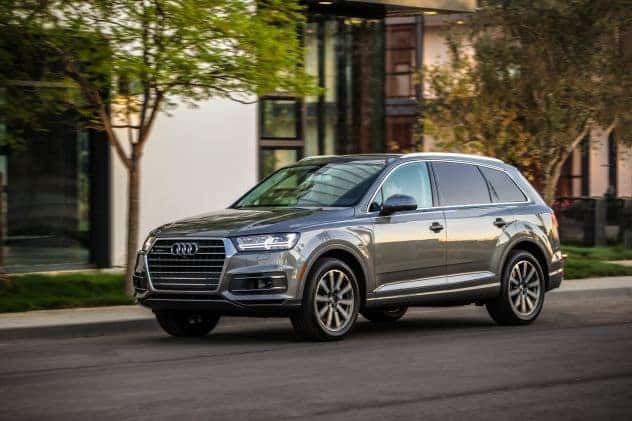 Let me guess – you're here because you're on the hunt for an SUV that will not only attend to all of your practical needs, but will feed your impractical desires as well. In the first category we have factors like passenger and cargo room, safety, and all around capability. In the second, we have luxury, state-of-the-art tech, and style. You're in the right place, because the Audi Q7 is for sale now at our new and used Audi dealer in Tampa, Florida, and it provides everything you're looking for.
Find Your New or Used Audi Q7 at the Premier Tampa Dealer
Top reviewers love the Audi Q7, so for what follows we'll be drawing from experts like Car and Driver, the Car Connection, and Motortrend.
The Audi Q7 has received high praise for elements you would expect an SUV to offer, like its expansive cabin and cargo spaces, its dependable driving capabilities, and its outstanding level of safety.
At the same time, the Audi Q7 delivers a practical drive that you'll enjoy thanks to its "luxurious, comfortable, and quiet" interior, its massive array of standard and optional tech and safety features, and its "energetic, fuel-efficient" engines. With its standard Quattro AWD system, the Q7 is equipped to go anywhere, and thanks to its "beautiful and high-tech cabin," it will take you there in style and comfort.
The Audi Q7 is for sale now at our new and used Audi dealer in Tampa, Florida. So why shop Audi Tampa?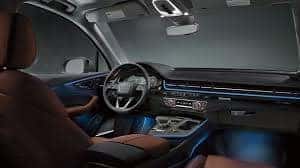 Test Drive Your New or Used Audi Q7 at Our Tampa Audi Dealer Today
First, it's a question of expertise.  Audi Tampa is part of a family of auto dealers that has been around for more than 45 years, and over the course of that we've become renowned for offering unrivaled expertise.
At the same time, we're dedicated to offering the most massive selection of new and used Audi vehicles that you'll find anywhere in Tampa, and that includes the Audi Q7.
And then you have to consider service. At Audi Tampa, we're renowned for providing the best Audi service in Tampa. We possess the expertise, staff, and streamlined processes necessary to make sure that you get back on the road fast, and that your repairs stay fixed.
Bottom line – between the Audi Q7 and the customer service at our Tampa Audi dealer, you're in for an unparalleled driving and shopping experience.
Check out our new and used Audi Q7 selection online, or call Audi Tampa at (888) 486-8115 today.