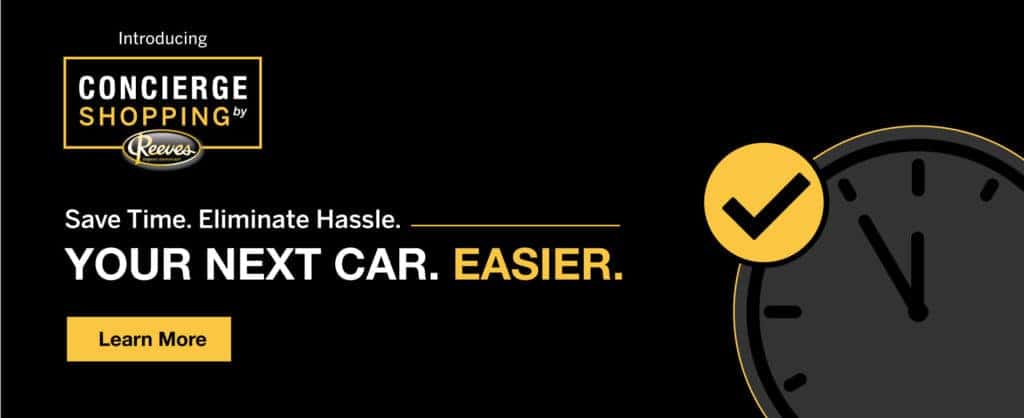 Concierge Shopping – Only at Reeves
We help find your ideal vehicle
We recognize the demands on your schedule are seemingly never-ending. Save time and make life easier today — schedule your next service with Valet by Reeves™!
At Reeves, we understand that shopping for a vehicle in today's unprecedented market can be a time-consuming process — especially if you're looking for something specific. It's frustrating to shop in the face of dwindling inventories and salespeople that don't truly care about your needs.
We believe there's a better way. That's why we've launched a new service to make your life easier – Concierge Shopping by Reeves™.
How it Works
We handle the search for you. All we ask is that you describe the vehicle you're seeking, based upon:
Body style
Color
Options
Financial parameters
Timeline for receiving your vehicle
Your Next Car, Easier
Our dedicated sales professionals get to work on your behalf. We scour markets near and far utilizing manufacturer inventory systems, as well as by leveraging our vast nationwide industry relationships.
More than your typical sales process, our professionals function like your concierge during the process. Taking today's frustrating "search process" off your plate, then working diligently on your behalf to secure your ideal vehicle.
Eliminate the hassle of your vehicle search. Experience the Concierge Shopping by Reeves™ difference today. Complete the form to get started!