Land Rover Service in Tampa | Why One Dealership has a Reputation for Excellence
One Tampa Dealership Offers Premier Land Rover Service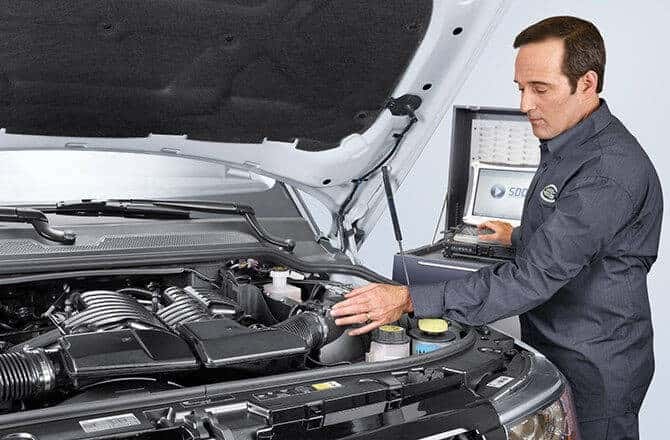 Just about everyone knows that Land Rover is unchallenged when it comes to creating the ultimate adventure vehicles, but nothing sidetracks your adventure like bad maintenance or repair. That's why you need Land Rover service from a Tampa dealership that holds a reputation for delivering only the best.
But as many know all too well, a good dealer is hard to find. Let's take a moment to look at why Land Rover Tampa is literally #1 when it comes to addressing all of your Land Rover needs.
Land Rover Service from the Country's Most Acclaimed Land Rover Dealership
At Land Rover Tampa, we were recently recognized with the brand's Marque of Distinction, which means we're the #1 Land Rover dealership in the country. This is our 3rd Marque of Distinction, and that plus our 14 Pinnacle Awards makes us the most awarded Land Rover dealer in the nation. Part of what has helped us achieve this honor involves the fact that we provide the best Land Rover service in Tampa.
Here's how we do it:
At Land Rover Tampa, our service team is unrivaled in its training and experience, allowing them to diagnose your issue quickly and accurately, then provide reliable repairs.
Thanks to the fact that we have the largest service volume of any Tampa Land Rover dealership, we're able to work on more vehicles at once, meaning yours gets in and out fast.
You shouldn't have to worry about the quality of your repairs. That's why we use only Land Rover certified parts in every service we perform.
The only thing better than getting great service is getting it for a great deal. At Land Rover Tampa, we offer the best Land Rover service specials around on everything from brakes to tires to fluids and a whole lot more.

Get Land Rover Service You Can Count On From the Nation's #1 Land Rover Dealership
Bottom line – with the premier Land Rover service at our Tampa dealer, you have everything you need to keep your adventure on the road. That's just part of why Land Rover North America has deemed us #1. Drop by today and see what nation-leading service looks like.
Use our convenient online form to schedule your Land Rover service today, or call Land Rover Tampa at (866) 790-5237.