Lease the "Top-Notch" 2020 Audi Q5
The 2020 Audi Q5 Is the Ideal Vehicle for Drivers Who Want Luxury and Versatility
You have a lot to get done, and whether that means moving people or cargo, you need a vehicle that offers versatility suited to the task. At the same time, you want a luxurious ride that delivers the utmost in state-of-the-art technology and thrilling performance. According to the experts, you want to lease a 2020 Audi Q5.
What are experts saying about the new Q5? Let's take a look.
"It's Very Good" – Meet the 2020 Audi Q5
The industry's leading consumer reports have high praise for the 2020 Audi Q5:
"The 2020 Audi Q5 has become the default luxury crossover SUV for many drivers for a reason: it's very good…Loaded with intuitive tech…Strong turbo engines…Adaptable ride."
"Quiet, comfortable cabin features top-notch interior craftsmanship…All-wheel drive comes standard…Array of technology options"
US News Rankings and Reviews
"It delivers engaging performance and has a posh interior, making it one of the most-well-rounded vehicles in the class…Intuitive infotainment tech."
"Suave styling inside and out…Peppy and thrifty powertrain…High-tech options."
"#1 in Best Small Luxury SUVs…Sports sedan-like ride & handling…Luxurious, high-tech interior…Handling styling."
The 2020 Audi Q5 has been updated to offer the model's most impressive array of standard and optional technology yet, such as the brand's award-winning Virtual Cockpit, its industry-leading MMI infotainment system with up to an 8.3-inch touchscreen, Android Auto and Apple CarPlay, WiFi, and a range of new driver assist and safety tools.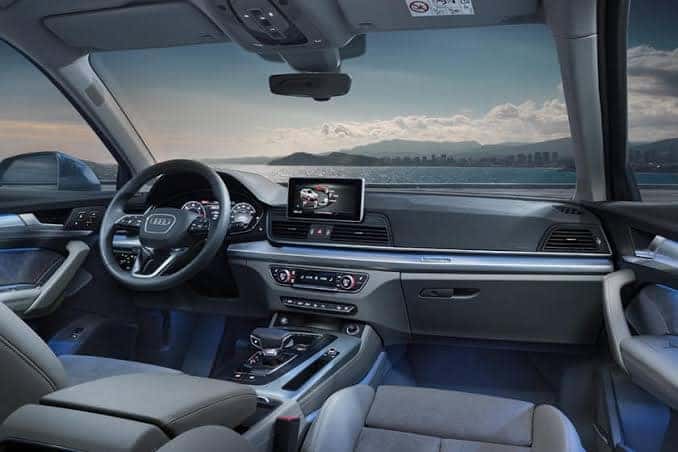 Lease Your 2020 Audi Q5 from Our Tampa Dealer
These are challenging times for shopping for a new vehicle, so at Audi Tampa we're making it safer and more convenient by offering valet test drives directly at your home or office. All you need to is schedule a time, and we'll bring the Q5 or any other model to you.
Audi Tampa also provides the largest selection in the region, making it easy to lease the right 2020 Audi Q5 trim for your needs. What's more, we're committed to providing complete satisfaction with every interaction. In other words, you can count on receiving the utmost in quality customer service at all times.
Schedule your valet test drive today, and see why experts are so thrilled by the 2020 Audi Q5.
Check out our current inventory of the 2020 Audi Q5 online now, or call Audi Tampa at (888) 486-8115 today.