Lease Your New 2018 Subaru Impreza from the Leading Subaru Dealer in Tampa
Why Get Your 2018 Impreza from Our Tampa Subaru Dealer?

Finding the perfect car is never easy. It's a problem that poses two questions: What kind of vehicle should you get, and where should you get it? As it turns out, the answers are clear. You want the reliable versatility of the go-anywhere Subaru Impreza, and you want to lease it from the top Subaru dealer in Tampa – Reeves Subaru of Tampa.
Why the Impreza, and why Reeves? The reasons are many, so let's dig deeper below.
Why Lease a New 2018 Subaru Impreza from this Tampa Dealer
Let's start by providing some background about the 2018 Subaru Impreza.
Subaru has long been renowned for crafting the most reliable adventure rides on the road, and the Impreza is essentially a more urban-friendly version of the brand's larger wagons and crossovers. Available as both a sedan or a hatchback, the Impreza was built to offer all of the capability of an Outback with even greater maneuverability and efficiency.
Car and Driver, for example, praises the 2018 Subaru Impreza for its sleek design, surefooted and agile AWD handling, quiet and comfortable interior, and unparalleled reliability. Edmunds hails its spacious interior, power, and advanced safety features. And Motortrend applauds the Impreza's new driver assist technology, as well as its new global structure, which delivers both more safety and more space.
So, why lease your 2018 Impreza from our Tampa Subaru dealer?
We're proud to say that we're part of the Reeves family of car dealers, which has had its doors open for for than 45 years.
You want the perfect vehicle for you, not just whatever happens to be laying around. What year, model, trim, and color are you searching for? We've got it.
Tampa's best Subaru service
Nothing ruins your adventure like ending up on the side of the road. At Reeves Subaru of Tampa, we offer the fastest, most convenient, most dependable Subaru service in Tampa or beyond.
The best Subaru specials around
At Reeves Subaru of Tampa, we believe that getting behind the wheel of a Subaru shouldn't cost you an arm and a leg. That's why we offer the best Subaru specials and incentives that you'll find at any Tampa Subaru dealer.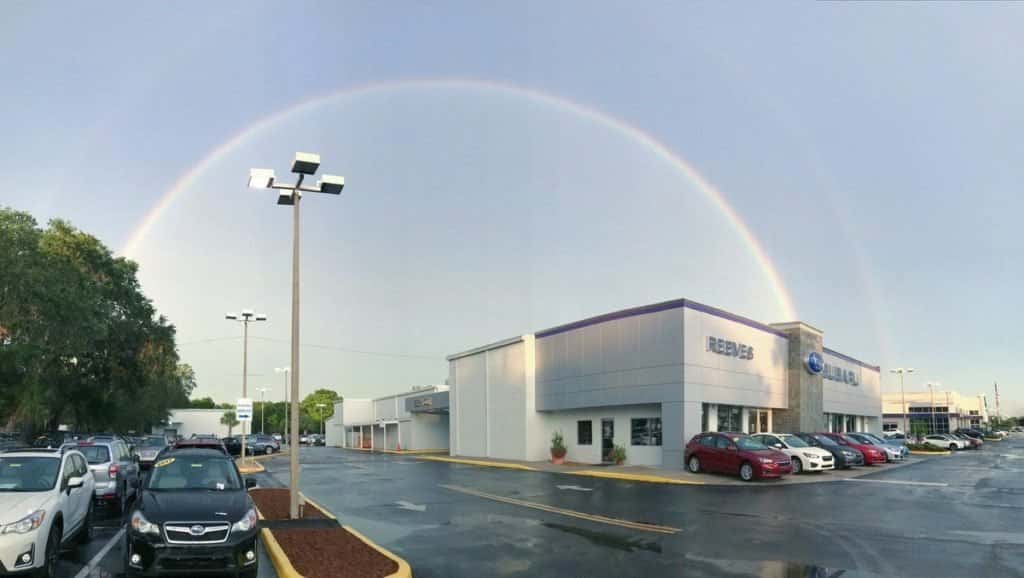 Lease Your 2018 Subaru Impreza from the #1 Tampa Subaru Dealer
Ready to see why the Subaru Impreza is the perfect car whether you're cruising around town or getting rugged on a road trip? Visit our Tampa Subaru dealer today, and discover why Reeves and the Impreza make for the perfect combination.
Check out our selection of the Subaru Impreza online, or call Reeves Subaru of Tampa at (888) 378-0739 today.