Experience True Luxury in the 2019 Audi A8
Experts Say the 2019 Audi A8 Is an Unrivaled High-Tech Luxury Sedan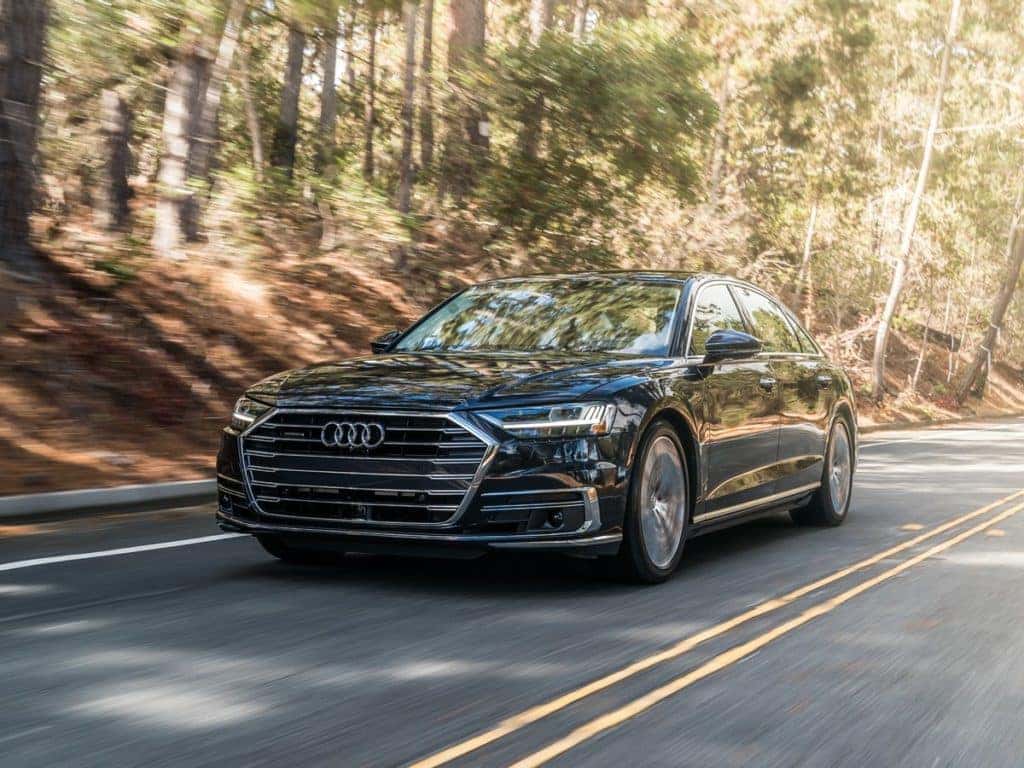 Over the course of the past 20 years the Audi A8 has offered many different versions, but if one thing has been consistent it's that the model has always delivered paramount luxury. Now experts are saying that the 2019 Audi A8 is a high-tech luxury sedan like no other, providing a relentlessly state-of-the-art driving experience.
"A Technological Powerhouse" – Meet the 2019 Audi A8
Let's take a look at what seven of the industry's top reviewers have to say about the 2019 Audi A8:
"The 2019 Audi A8 is a technological powerhouse." "Quieter than all its rivals." "The steering is laser precise."
US News Rankings and Reviews
"It has an intuitive dual-screen infotainment system and a roomy interior." "Quiet and serene ride." "Elegant interior." "High-tech, user-friendly features." "Coddling passenger accommodations."
"The world's most complete luxo-barge." "Superb tech." "Relaxing to drive."
"High-tech luxury." "Audi also took the time to develop a system that's intuitive to use and responds quickly to inputs." "High-resolution graphics look great." "Nimble." "A truly fantastic road trip car."
"Impeccably crafted cabin." "Impressive interior appointments and technology." "Responsive steering and cornering." "Exceptionally comfortable seats all around."
"Tech-packed flagship." This A8 pushes technological boundaries." "This is a sedan born for blissful cruising." "The A8's technology is often spectacular."
"A top-tier tech car." "The new MMI Touch Response system is easier to use thanks to haptic feedback and a smartphone-esque interface. The Audi A8 L is packed to the gills with tech and luxurious amenities." "One of the most high-tech luxury sedans on the road today."
Now let's look at just a taste of the state-of-the-art convenience and comfort tech offered by this high-tech luxury sedan:
Animated LED lighting throughout
Audi Virtual Cockpit
New MMI Touch Response Infotainment System
Turn and Intersection Assist
Top-View Camera with Virtual 360 View
Audi Pre-Sense 360
Rear-seat smart remote control
Rear-seat connectivity
Rear-seat Matrix LED reading lights
Relaxation seat with foot massage, aroma therapy, ambient lighting, and more
Test Drive Your 2019 Audi A8 Today
Ready to experience the very definition of a high-tech luxury sedan? Visit our Tampa Audi dealer to test drive your 2019 Audi A8 today.
At Audi Tampa you'll enjoy vast selection, paramount expertise, and an unrivaled commitment to providing convenience. What kind of convenience? If you're too busy to visit us, simply schedule a time and we'll bring the A8 to you.
Check out our selection of the 2019 Audi A8 online, or call Audi Tampa at (888) 486-8115 today.