3-Rows of Luxury: Meet the New 2019 Audi Q7 SUV
The New Audi Q7 Offers "Tech Superiority"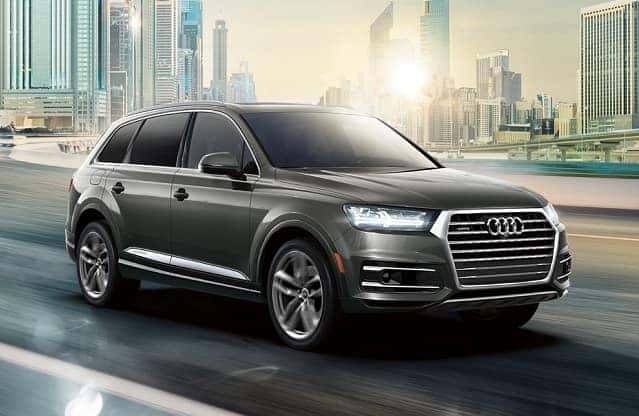 Over the course of the past 20 years, the Audi Q lineup of SUVs have been providing drivers with the most tech-savvy, luxurious, yet practical driving experience on the road. Now according to the experts, the new Audi Q7 delivers unrivaled 3-row perfection.
Let's take a look at what the leading consumer reports have to say about the 2019 Q7 SUV.
"Lavish…Athletic…Impressive" – the New 2019 Audi Q7 SUV Delivers
Experts have high praise for the new Audi Q7:
"The 2019 Audi Q7 delivers on the factors most important to large luxury SUV buyers: space, comfort, style, safety, and impressive technology…excellent build quality…luscious interior appointments…sublime ride…tech superiority."
US News Rankings and Reviews
"The 2019 Audi Q7 ranks highly among luxury midsize SUVs because of its engaging performance, high-end interior, and user-friendly features…lavish interior…athletic handling."
"5/5…10Best…Editors' Choice…Back-road athleticism…beautiful and high-tech cabin…three-row versatility…One of our favorite ways to move the family."
"Exceptional interior materials and build quality…excellent ride quality regardless of road surface…cutting-edge safety and infotainment technology features."
"Practical luxury for up to seven. Three words: big, posh, box."
"In the 2019 Audi Q7, you'll find a versatile 7-passenger crossover SUV that also happens to be a spectacular luxury vehicle. From its sophisticated styling to its advanced technology to its potent engines and standard all-wheel drive, the Q7 wants for nothing. It can even tow up to 7,700 pounds."
Suffice to say that the verdict is in, and the 2019 Q7 SUV delivers the superior technology, comfort, and luxury that you've been looking for.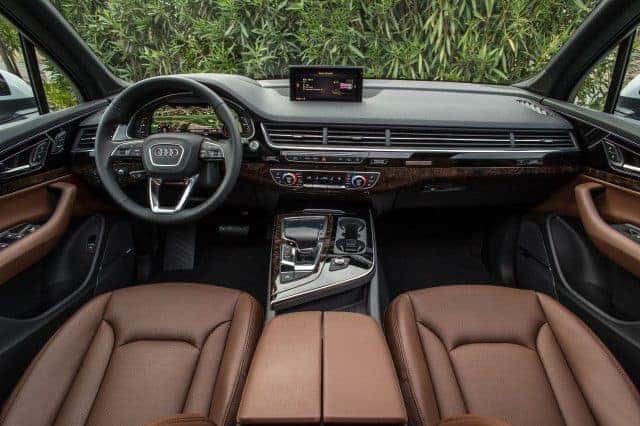 Test Drive the New 2019 Audi Q7 SUV at Our Tampa Dealer
Now it's time for you to experience the unrivaled perfection of the new Audi Q7 for yourself. Visit Audi Tampa today, and see what has experts so thrilled.
At Audi Tampa, you'll enjoy a vast selection making it easy to test drive a variety of different models and trims and make sure that you find the right one for your needs. What's more, you'll receive unmatched convenience and a commitment to providing complete satisfaction.
Too busy to come to us? No problem—arrange a time, and we'll bring the 2019 Q7 SUV to you for a test drive directly at your home or office.
Check out our selection of the new 2019 Audi Q7 online now, or call Audi Tampa at (888) 486-8115 today.