Where Is the #1 Place in Tampa to Get a Porsche Cayenne, Panamera, Cayman, 911, or Macan?
Looking for the Best Place to Buy or Lease a Porsche Cayenne, Panamera, Cayman, 911, or Macan? It's Porsche of Tampa

We don't have to tell you that there's nothing like a Porsche. No other automaker is so renowned for offering the highest echelon of performance, style, state of the art tech, comfort, and all around luxury. So where do you go to enjoy a Porsche shopping experience befitting of all that luxury? Whether you want to buy or lease a new or used Porsche Cayenne, Panamera, Cayman, 911, or Macan, there's only one Tampa dealer that consistently delivers perfection – Porsche of Tampa.
Why Porsche of Tampa? Here are four things we do to ensure an unrivaled experience, every time.
4 Reasons to Get Your Porsche Cayenne, Panamera, Cayman, 911, or Macan from Our Tampa Dealer
As part of the Reeves family of auto dealers, we draw from nearly 50 years of experience. Ever since we opened our doors, we've become renowned for being the #1 Tampa new and used Porsche dealer when it comes to offering the utmost in expertise and experience.
If you're going to find the perfect thrill ride for you, you need options. Whether you're looking for the Porsche Cayenne, Panamera, Cayman, 911, Macan, or any other model, we have it in our massive inventory in a range of trims and colors.
Tampa's best Porsche service
Nothing puts an end to your fun like a breakdown. At Porsche of Tampa, we offer the fastest, most dependable Porsche service in Tampa or beyond. From expert, experienced technicians, to streamlined service processes and the best parts, we get you back on the road fast.
The best Porsche lease specials around
At Porsche of Tampa, we're constantly updating our list of Porsche lease specials. While getting behind the wheel of a Porsche should be an exclusive luxury, it doesn't have to break the bank. So get in touch to find out what lease specials we have on now.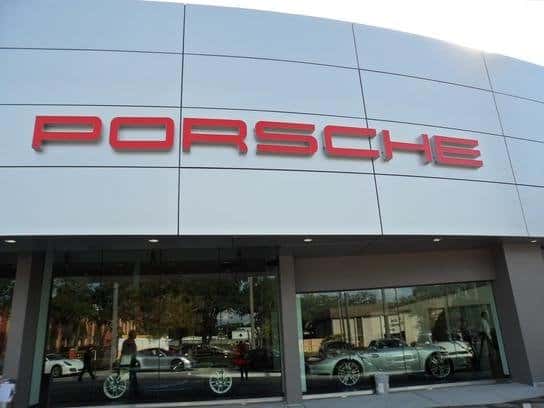 Test Drive a Porsche Macan, 911, Cayman, Panamera, or Cayenne Today at Tampa's #1 Porsche Dealer
Bottom line – Porsche makes the best cars, and Porsche of Tampa delivers the best experience. Why settle for anything less?