Tech-Savvy Versatility: Experience a Used Audi Q5 Luxury SUV
Experts Are Giving the Audi Q5 Luxury SUV Outstanding Scores
You demand comfort and luxury. You crave the latest technology. And you want it all in a package that performs. What's more, you want it at a great price. Sound familiar? Then it sounds like you're looking for a used Audi Q5.
According to the experts, this luxury SUV delivers on everything you need from your next vehicle. Let's take a closer look.
Meet the Audi Q5 Luxury SUV at the Premier Used Audi Dealer in Tampa
So why do reviewers from leading consumer reports say Audi Q5 releases from the past several years are leading the luxury SUV pack?
US News Rankings and Reviews
"The 2019 Audi Q5's lively engines, sporty handling, and loads of standard features help it earn a spot near the top of our luxury compact SUV rankings."
"The perfect evolution of the super-popular Q5. The same, just better. Spot on."
"Gutsy and efficient powertrain." "High-tech features." "Expensively tailored looks." "Quick, comfortable, and infused with the latest technological gadgetry, the Audi Q5 is an undeniably premium compact crossover."
"Recent chassis changes deliver a smoother ride than before." "Quiet, comfortable cabin features top-notch interior craftsmanship." "All-wheel drive comes standard."
"The Audi Q5 is a compact-luxury SUV that should remain a best-seller thanks to its refinement, tech and performance."
Bottom line, if you're looking for a luxury SUV that will carry you where you're going with  state-of-the art, comfortable, heart-pounding performance, the Q5 is waiting for you.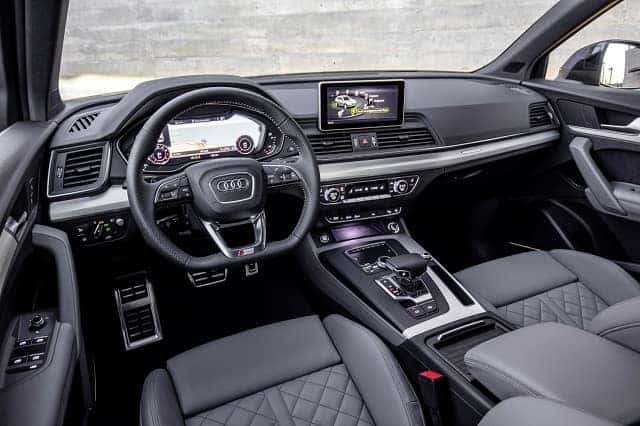 Test Drive Your Q5 at Tampa's Top Used Audi Dealer
Whenever you're looking for an outstanding pre-owned vehicle shopping experience, visit Audi Tampa. We're renowned for providing more of what you want:
Featuring the most expansive inventory in the Tampa area, Audi Tampa ensures that you find the right vehicle for you.
At Audi Tampa, you never have to worry about the quality of your purchase. Every pre-owned vehicle we offer has been meticulously inspected then reconditioned to bring them as close to like-new perfection as possible.
We're all about making your shopping experience more convenient. Our expert team is here to provide a helpful, streamlined shopping experience that results in complete satisfaction every time.
Check out our used Audi Q5 selection online now, or call Audi Tampa at (888) 486-8115 today.